Plans arrived, been reading night and day, had the smaller dwgs laminated and bound, black cover all very professional. I have some questions for Ed which I have forwarded to him what I have not encountered before is the rig, there is no definitive position for the boom or the yard on the mast, to me it seems they are floating in a self locating position, there may be nothing wrong with this but it would be good to get close first up, once the build is over I prefer to sail and not so much tweaking, another question is how do I know when the center board is down at the correct position.
My preferred build is in foam core, being a trained cabinet maker it would have been nice to get back to a wooden boat, I have not done a timber boat since the early seventies. At this stage I am deciding which way to build, vertical strip foam in a female mould or vertical over a male, if I do vertical in a female I will split the mould down the center line and lay up each half then join, this method makes it very easy to access the interior laminate without the need for walking on raw foam, laying down peel ply etc.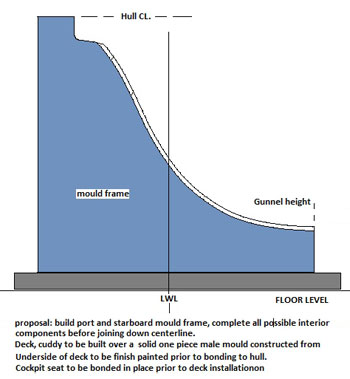 Reading feedback from your contributors convinced me to keep the boat light,
I would be disappointed to see her 100mm. down at the stern or down anywhere. With the exception of the lapstrake builder saying his floats just right, all others seem to suggest their boats are on the heavy side.
I am very keen to install electric propulsion, this should keep the weight out of the stern. Ad from Concord Beheer has been fantastic with his support with this and all other aspects of ROMILLY.
The cuddy will be lengthened, to what I have not decided, your writers seem to suggest 600mm. Having an open cockpit is definitely a concern, I will reduce the amount of floodable (is this a real word) volume as much as possible. As for the spars I will use all carbon and have the lightest sail material without compromising fair every day use.
Some thoughts before I start are: should I have the deadwood in solid foam and add it to the structure after the hull is moulded as per the planked version or have the deadwood hollow, dwgs for the latter are not so clear for this.
I have heard Ry, does have some weather helm, are you aware of this? If this is the case can I add a few cm fwd And take it from the aft edge. I enjoy sailing and I am a sailor rather a racer however I like to feel the boat could justify herself if asked.
Thanks
Wayno