Roxane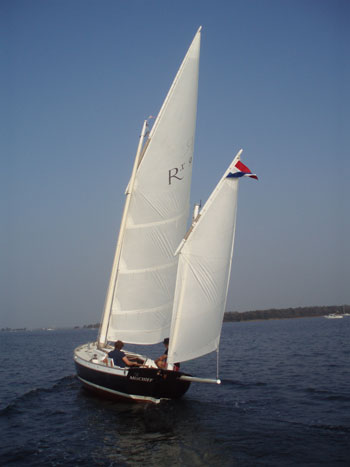 Cees Verhoef's Roxane – Mischief
Nigel Irens is perhaps best known for his globe circling fast multi-hulls but, when he decided to build a boat for his own use in 1994, his inspiration came from a Shetland Island fishing boat that he had once owned. This inspiration was melded with state of the art design techniques and materials to produce a unique design.
Roxane is a traditional looking hi-tech fast cruising yacht. She is a yawl rigged lugger with a loose footed main sail and unstayed carbon and epoxy fibre masts and spars.
The boat Nigel built for himself aroused much interest and became the prototype for the boat which quickly went into production.
Loa 9m 29ft 6in
Lwl 8.1m 26ft 7in
Beam 2.74m 9ft
Draft 0.76m – 1.75m 2ft 6in-5ft 9in
Displacement 3.2t 7044lbs
Sail area 41sq m 463sq ft
Romilly
Bill Stanton was inspired by Roxanne but wanted a smaller day sailer for estuary and coastal sailing around Devon and Cornwall. Bill is a very experienced sailor who had supported the Roxane project and was able to persuade Nigel to design a smaller version. Romilly was the result.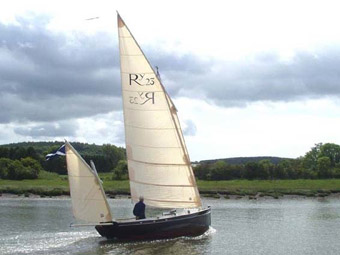 Photograph of David Collin's Romilly - Speedwell by Brian Kirk
Since Romilly would be used primarily as a day boat with occasional overnight stop overs it was decided to make cockpit size a priority as a result the cockpit provides ample room. The cabin is really a cuddy which is adequate for 2 sleeping on cushions on the floor. There is no built in provision for cooking in the original boats although some builders of the strip pine version have taken the decision to make the cabin somewhat bigger and have therefore been able to fit in more facilities.
Romilly has a high ballast ratio, the GRP version uses the same cast iron centre board as Roxanne and the SPV uses a cast lead ballast plug and a steel centre plate to provide a similar ballast ratio. She has a very fine hull form relatively large sail area making for a fast vessel. The original version has a loose footed main on a carbon fibre mast, some builders of the SPV have used the alternative sail plan which includes a boom. Although calculations are provided for wooden spars most builders stick with the original concept and use carbon fibre.
Loa 6.7m 22ft
Lwl 6.2m 20ft 3in
Beam 2.1m 6ft 10in
Draft 0.5m-1.5m 1ft 8in – 5ft
Displacement 1.2t 2640lbs
Sail area 22.5sq m 241sq ft
Current builder CONCORD BEHEER B.V