Having helped Rob Dawson step and un-step the mast I was concerned about my ability to do this on my own.
I did some searching on the web and found that the Freedom 21 has a keel stepped mast with a hole on the deck. I set about making a small version of the device used in the following document. F21Mast2.doc
This consisted of an 8 foot high A-frame with a cross piece that presses on the front of the cabin. This slopes to a point where the top of the A is directly over the mast cone. It has 2 rope guys tied at the boat's winches and one to the bow.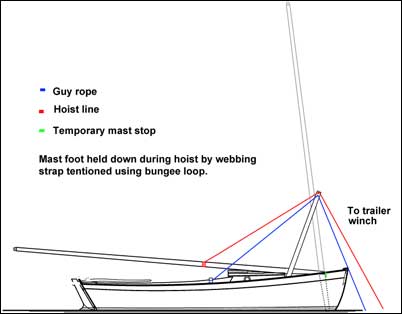 The foot of the mast is held down by a 50mm web strap which is held taught by a loop of bungee and up the mast by another loop of bungee to the cleat on the mast. The foot of the mast presses against a wooden T piece stop that lodges in place and is held down by a web ratchet over the bow. This all sounds a bit complicated but is very simple in reality, what I was trying to achieve was to have the foot of the mast held securely in place by an arrangement that automatically moved out of the way as the mast dropped into the slot.
There's a block in the top of the A frame and a rope passes over this to a point on the mast approximately 9 feet from the foot. In fact I set it a bit too high and had to use a step ladder to unhitch my strop. The trailer attaches to a rope from the strop and this is then used to winch the mast up in a very controlled manner. In fact as it turned out my Father (in his late 70s) came along so I him got them to wind the winch while I stayed on deck to guide the mast into place. In fact I wasn't needed and stepping the mast was achieved very easily and with no drama or worry about it over balancing at an embarrassing point.
I haven't tried to un-step the mast but think that it will just be a reverse of this process. I may need a longer A frame to allow for the 3 foot straight lift before it starts to lower down.
I would very much appreciate feedback on how other owners step their masts.