When arriving in the Morbihan (Little sea in Breton) by road we are told it is the most beautiful bay in the world. If not the most beautiful it is certainly up there! The Semaine du Golfe is an opportunity to share the Golfe with about 1500 other assorted craft ranging from three masted warships to tiny sailing canoes with as much freeboard as a floating wok. The variety of yachts, especially the smaller ones, was fascinating and seeing many of them on the beach for our lunch on Ile d'Arz was wonderful.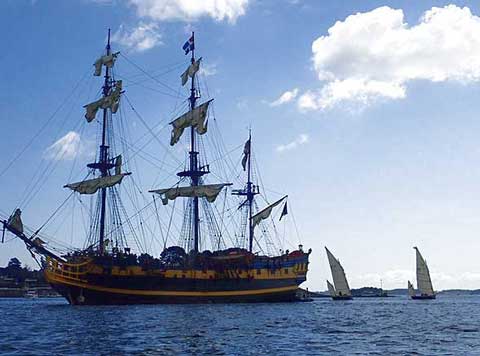 Image: Sarah Louise – Two Romillys with The Fleur du Roy
Having witnessed the spectacle 7 previous times I was delighted to be accepted this year with a suitable craft, our Romilly 22 Sarah. We joined three others, two French and one English, Sarah Louise from Argelès sur Mer, Ruby from the Hamble and itinerant Swallow. We also spotted a Canadian flagged Roxanne.
This year the tides dictated a late start for the opening parade resulting in most of the fleet finishing the first day close to midnight! Consequently, as the week progressed droopy eyelids became common during the assorted evening festivities.
The daily briefing was translated into English for our Flotilla 7 but the course change for one of our two races wasn't. There was a notice on the stern of the committee boat which was incomprehensible for us anyway and I speak French! Following those who knew where they were going was simple. A good job we Romillys weren't the fastest yachts.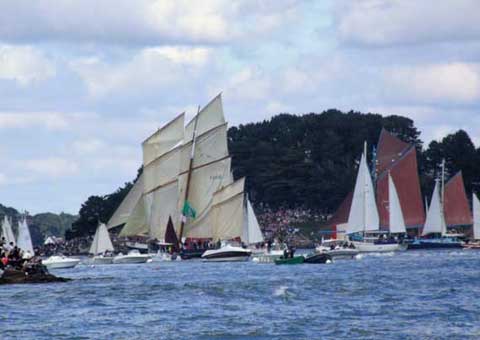 Invited guests this year were Venetians and Norwegians who arrived with an assortment of local craft. The smell of tarred hemp that emanated from the portable Norwegian boatyard on the quay in Vannes was addictive.
The final Saturday evening in Vannes was magical with a piped band, videos of the event screening on the surrounding building facades, the harbour filled with segments of most of the various classes and gondolas silently gliding amongst them all.
The event costs nothing to enter and the hospitality is second to none. Whilst there were about 4000 crew the number of volunteers making it all happen was about the same. Very impressive.
Let us try and get a few more of us there in 2021!
Robin Berwick