Errit Bekkering has a lovely inboard engined Romilly that he sails on the Waddenzee. As you can see from the picture he needs some beaching legs. Drawings of beaching legs were provided with boats for DIY completion but I guess that new owners of complete boats never received these.
Errit bought his Romilly from a brokerage in Lymington and planned to launch his boat from the trailer but was advised by a trailer engineer who did some modifications to his trailer that "due to the shape of the hull trailer launching would never work. Errit ended up having his boat craned in.
Errit has had a stay sail made and we look forward to his report on its use when he has had the need to use the sail.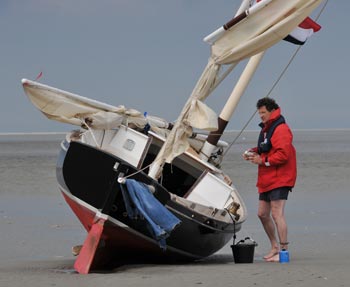 There is a copy of the original plans for beaching legs here