David Collin writes:
I have never found the halyard arrangement as designed to be much of a problem, but reading of the difficulties experienced by others made me wonder if it was worth experimenting with an alternative way of rigging it.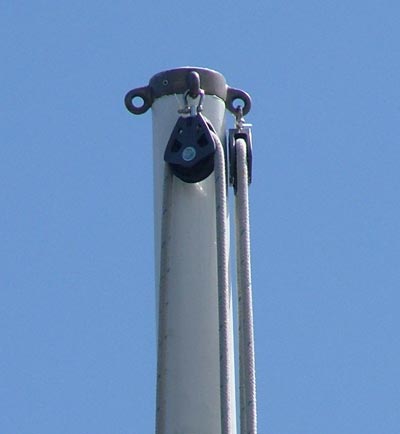 I had the idea a long time ago of replacing the double block at the starboard side of the mast head with a single block to starboard, and another on the after side of the mast head, in order to reduce wear on the mast. When I read on your website that Ed Burnett also thought that might be something worth trying, I finally took the plunge.
The first task was to replace my masthead fitting which only had eyes to port and starboard, with one which had eyes fore and aft and to port and starboard. This was easily obtained from Davey. The job of removing one fitting and applying the other was straightforward, involving only removing the locating screws, tapping the fitting gently all round its lower edge until it became free of the timber plug which ends the carbon fibre mast, and then replacing it with the new fitting, suitable bored to take new locating screws. A small amount of two pack filler finished the job.
I then replaced all the original Tufnal blocks on the entire halyard arrangement with new Lewmar Synchro blocks, except for those on deck which I retained for their appearance and to avoid the need to bore any more holes in the deck.
The result is a system with much less friction and no chafing to the mast head (so far). I also have spare eyes at the masthead to rig a separate burgee halyard or to carry out any further experiments that prove necessary. In removing my old fitting I noticed substantial wear to the eye from which the previous double block was rigged and I hope that my new arrangement will spread the load better and reduce wear.
The following picture shows the new arrangement under sail. There is definitely a lot less friction and dropping the main is dramatically speeded up to the extent that I now have to look sharp to avoid being hit on the head by the yard – that never used to happen!