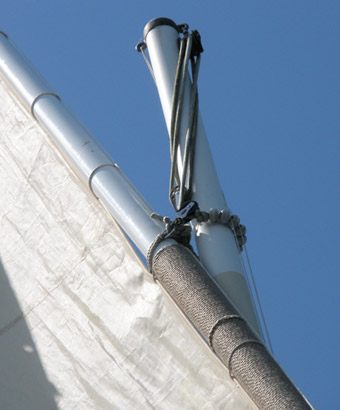 Oh dear I have a little problem. The mast is turning in the slot and I didn't notice it until I got back and looked at my photographs. I will have to investigate why when I next go to the boat.
David Collin has very kindly suggested a possible culprit and solution below.

I once had a similar problem with my mast – it turned out that the little button at the top of the after end of the tapered mast base had become worn and was no longer locating in the little check in the mast step. I made a new one, screwed and resin fixed it into place and have had no trouble since.

I see from your picture that you have burgee halyards. I found that they kept jamming in the parrel beads, thus making lowering sail difficult at times. I did away with the burgee halyards.