If, like me, you've struggled on occasions to remove the masts of a Romilly or Roxane, the following may be of interest.
With my Romilly, Serina, the combination of sea water and dirt forms a seal between the mast stump and the socket. Sometimes I've had to use a forklift to break the seal. Other times it's taken a soaking with a washing-up liquid solution, and then some burly friends to heave the masts out.
This winter I tried a pipe wrench (and a clean handkerchief!). It was a dramatic improvement and a single-handed task.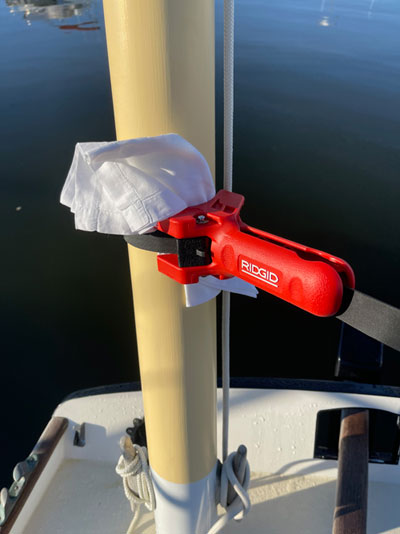 The wrench allowed me to get a firm grip on the mast and to twist it a few degrees in each direction. I didn't try to lift the masts at this stage; I just broke the seal.
Once Serina's mast was free, it was an easy task to lift each of them from the socket.