David Collin has hauled Speedwell out for the winter and I thought that others might like to see how David tackles the process.
In the background you can see Speedwell along side a floating jetty waiting for the tide to come in. David has lashed the mast. The launching trolley is in position on a muddy, slippery looking slip way. 12:15pm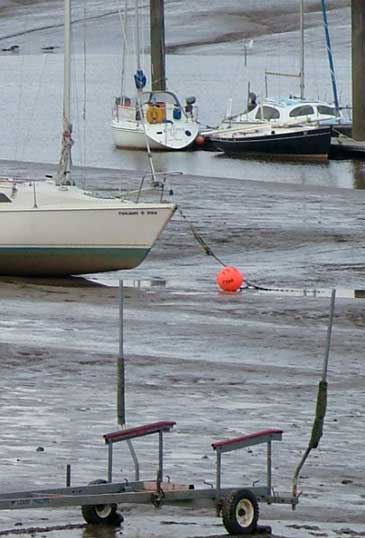 I thought that the lines David has tied are a very good idea and would help the boat "funnel" into the right position.
The ropes you mentioned are very useful – I regard them not so much as guides, but as a means of aligning the bows with the centre of the trailer, by using the winches.
So it sounds like they are in place to be pulled on board and the main sheet winches are used to pull the boat up against the trailer stop. The second picture was taken at 2:15pm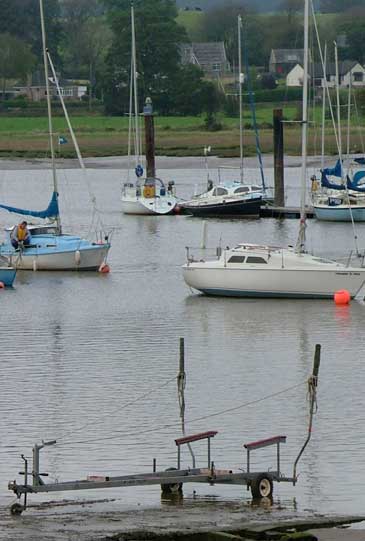 David has a friend with a 4×4, very useful when hauling out on such a slippery slip way. I have not hauled my boat out yet so was very interested in David's process. I commented that I had not thought of leaving the road trailer element of the piggy back trailer on the level, but that I thought this was a good idea.
David replied
You are absolutely right about the advantage of winching up the launching trolley on the level – the only snag is lifting the jockey wheel over the preventor at the bottom of the channel on the main trailer – a two man job!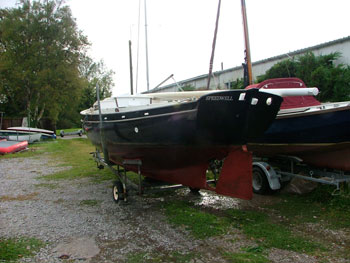 The boat was on the trolley and on dry ground by 3:15pm and by 4:15 David had her safely home home and pressure washed.
If you haul your boat out each year or as in my case every other year this process is one that you just want to get over with and it is a bit of a relief when the boat is on her trailer and parked up for the winter. For people who trailer sail their boats, well you are probably wondering what all of the fuss is about.
I hope that one or two others chime in with comments and tips.
How do you drop the mast? I have heard of people who go out somewhere quiet and drop the mast overboard and then pull it alongside and into the boat that way. Then motor in. Although the mast is relatively light it is unwieldy when just off vertical until you get it down to the horizontal.