Time to make plans for a big Romilly meet up in southern Brittany May 2019
The Festival du Golfe is held in Brittany every two years, its a very big event for traditionally rigged sailing boats of all kinds and sizes, with a 1000 boats in attendance. The event is very well organised and is great fun and there are no entry fees!
27th May – 2nd June 2019
At the last in 2017 there were three Romillys attending. Nigel Manning, skipper of Ry16 says "we intend to make the 2019 event using Brittany Ferries to cross the channel to St Malo and to join fleet no. 7 (cruising fleet).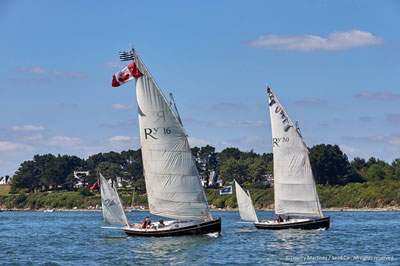 From the event website, fleet no. 7 is described like this: "All the small classic yachts, which have the ability and the wish for regatta… Guépards, Morgann, Tofinou, Billie Charlotte, Berny Cat, Cormorans, Ailes as well as the classic keel-boats like Flying Dutchman, Loups, Snipe, Caneton and 505… and also the classic European series like Schouw, Vrijheid, Valk in The Nethelands, Water Wags in Ireland or Loch Long One Design in Scotland"
Nigel is very keen to encourage other Romilly owners to attend. If you email the site, I will pass on your details to Nigel.
Useful websites:
www.semainedugolfe.com
www.golfedumorbihan.bzh