"ROMILLY" sailing on the river Yare, southern broads with her recent new rig, which I thought might be of interest to other Romilly owners.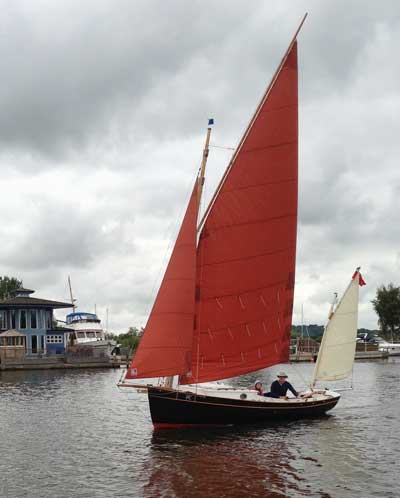 The rig was set up by the previous owner a few years back after he bought her from the original owner Bill Stanton (as many will know, Bill was Nigel Irens sponsoring customer for the Romilly design). The rationale was to enable single handed mast stepping for the Norfolk broads. If I understand correctly, either Nigel or possibly Ed Burnett approved the new sail plan.
Sail area is equal to the original with the loss of main offset by a furling jib. The new hollow, wooden mast is hand crafted from Canadian Sitka spruce as is the gaff – both very light. The bow sprit is Columbian pine and slots into a cup welded to the side of the new main mast tabernacle. The tabernacle is a robust and elegantly engineered, stainless steel unit mounted on a spike in the original mast slot. There are no fixings; so once the main shroud is released from its cam, aft of the cuddy, the mast starts swinging freely down into the boat. I commend Bill and the yard 'Adams of Belaugh' on the quality of materials and workmanship – top drawer throughout.
The actual process of stepping is quick and safe – assuming one remembers there are no fixings! The last/ first few yards of lowering/ raising needs a bit of dexterity – handling the mast shroud in one hand and holding up a 6 foot mast crutch in another can get awkward if shrouds, halyards etc choose to get hung up. Whole process maybe 5 minutes. After buying her, in the first week of a blustery, chilly May this year I took 2 days to sail the 50 miles from the owners home on the northern broads to my home stretch of river on the southern broads. I lost count of how many times I stepped the mast, possibly 7 times. I sailed pretty much the whole way, motoring only through the closest set of bridges. Compared to any other boat I've sailed, stepping is a trivial task.
Okay it goes up and down – how does it go? A brief caveat on my sailing experience – I've done a day skipper practical week and crewed for a few weeks on yachts but I've mainly sailed dinghies and windsurfers so I'm new to gaff's and mizzens. As such I didn't know what to expect of performance, I'd heard good things but I didn't buy it ostensibly for speed, also I cant yet offer a comparison with the original rig. Since my solo delivery trip I've sailed her 2 to 3 times a week for the past 5 weeks in all sorts of conditions.
She does point to windward well, better than I might have expected. She makes surprising headway tacking up narrow broads even against a couple of knots of tide. As any broads sailor will know this can be a deeply discouraging experience in the wrong boat. I now know not to over sheet the main. I pretty much just leave the mizzen up – only found it to get a bit squirrelly down wind in a strong blow but otherwise it seems to add power and control up into wind. Not sure how the mizzen performs without benefit of the jib under original rig – will she get stuck in irons?
The current sheet arrangements for both jib and main are not ideal (failing health of previous owner means I think that this rig hadn't been used much or fettled with). This will be fixed to allow fluid tacks; jib sheets often get tangled with halyard blocks. The ease with which the boom-less main gybes on a run and the low height of the main sheet means the helm is often in danger of being garrotted or hauled overboard by the throat. I'm looking to get a whisper pole and rig up a set of short sturdy stern poles across which I can hang a raised main sheet traveller.
My wife tells me I've sailed this boat more times in the last 5 weeks than my other boats in the last 5 years (this was not a commendation, rather more confounded expectation). I can say I've been delighted at how much this little boat has to offer; an engaging and rewarding sail and a fantastic camping and social boat. Most of my sailing on her has been with at least 1 if not all 4 of our children, plus occasionally my wife and even the dog. I've also managed a number of after work sessions with friends and colleagues. Everyone (possibly bar the dog) has asked for another go. Though for some the lure might be the halfway pub stop.
I do have to keep remembering that whilst it's a 22 foot boat, bumkin and now added bowsprit take her closer to 30ft, This can be a bother tacking up narrow broads and I need to remain alert. I relax a little with the children on board, as their squeals of excitement usually give early warning of an impending dig into a bank. They delight in collecting undergrowth and frightening cows. My eldest son's helming instinct is to treat overhangs as cat would its whiskers and turn when he hits something. Anyway, happily they all shout louder than I swear.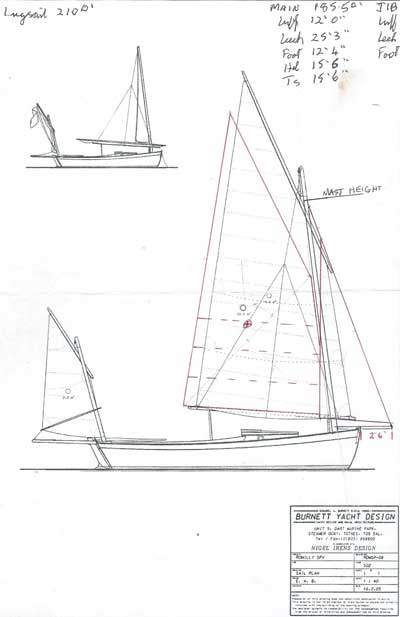 Aesthetically, this rig has its charms – it would take a lot more effort to make a Romilly look unsightly. It maybe that a matching tan mizzen would complete the story? Anyway as I'm sure other owners will attest, one receives a lot of credit for just owning a Romilly and this rig doesn't seem to affect that – it can be hard to politely get away to sail. I do though prefer the look of the original rig – its a big part of what drew me to Romilly in the first place. I'm not sure when it will be appropriate to swap out for the other rig as for the time being I'll be keeping her based on the broads and this rig is so handy for that. Weather permitting I'll be taking a trip this weekend round the Norfolk coast, exiting the broads at Great Yarmouth round to Blakeney where we plan to camp for a few weekends. I'm toying with the idea of switching the rig for that, however the current expectation of strong winds and the fact that I've been hiding on the broads too long means I may stick with this slightly more versatile/ safer rig until I get there.
I'd be interested in hearing from anyone out there who has experience of rowing one? I have rollocks but no oars (no that's not the start of joke) and wondered whether the idea is to be discouraged. If you do row what is your setup?