Some of you may know that I'm preparing "Riant" for sale and need to give her a good old clean having had her sat on the trailer for over a year. I was given the opportunity to try some Marine GRP and Gel coat cleaner made by a firm called Chemicals Direct who sell various cleaning products on Ebay and elsewhere. I think that they only ship to the UK though.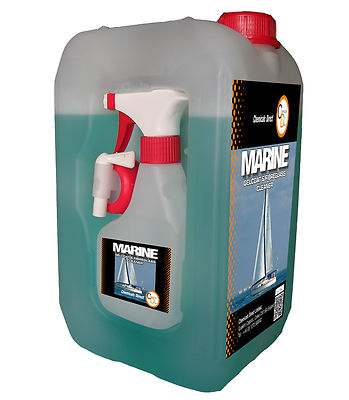 It comes in a very impressive 5 litre container with a tap and a smaller built in spray bottle. The idea is that you can easily dispense the cleaner from the large container into the spray bottle and dilute it to taste (not literally of course).
I tried it both as a stronger concentrate in the spray bottle and a more dilute mix in a bucket for use with a sponge. Either way it gives your gell coat a really deep clean and I'd say it is really good to clean off grime prior to polishing. If you've only ever pressure washed your hull and have a residue film left by algae or salt or whatever this stuff will shift it.
If you are still getting your boat ready for the water and want to give it a really good clean I can recommend Marine Gelcoat GRP Cleaner from Chemicals Direct
I have no connection with this company.
I see that they also make a product called Marine Boat Yacht Carnauba Wash and Wax Cleaner which I may also give a try.
Manufacturers description.
ALL PURPOSE CLEANER IN A BRAND NEW CONTAINER (See our previous feedback) – store on your vessel and use this container and detachable sprayer. Dilute the concentrate into spray bottle as required, or use container with drum tap to dispense liquid. Easy to use and to store away.
Marine gelcoat and fibreglass cleaner is a concentrated, multipurpose, biodegradable boat and yacht cleaning solution. It removes grease and grime, oil, bird droppings, exhaust smoke stains, dirt and algae. It is ideal for use in many areas, such as decks, hulls, engine rooms and is safe to use on most surfaces including, fibreglass, paint work, stainless steel, plastic, vinyl, and glass. It has no abrasive properties, is non-corrosive and non-flammable. It may be diluted up to 150-1 with hot or cold water for lighter soiling and 10-1 for heavier soiling. An ideal solution for all marine cleaning needs.