The account of Richard Stilgoe's 70th birthday voyage is available for free download here: CIRCUMNAVIGATION-Complete.pdf 1.3mb
Rather than attempting to roll back the years with hair dying or Stuttgart sports car Sir Richard decided to complete a voyage of circumnavigation in his trusty Roxane, "Ruby II".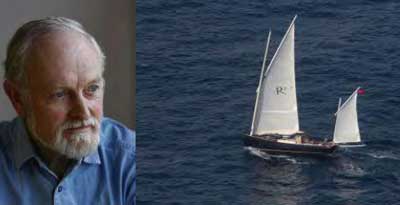 The seed of the plan had been sown many years earlier but a notable birthday and a medical shot across his bows gave Richard the push he needed to make the plan a reality. He encapsulates it beautifully here:
"My boat Ruby II … lives up a muddy creek opposite Salcombe, and like most old ladies she doesn't go out often enough. The plan was to take her out of Salcombe, turn left, up the English channel, turn left again, up the Thames to Reading, through the Kennet and Avon Canal to Bath and Bristol, down the Bristol Channel, round Land's End and back to Salcombe. A circumnavigation South of Watford – or, in Nigel Irens' words, a circumnavigation of Battersea Power Station."
The story of the voyage with interesting asides is written in a very entertaining and accessible style and as you read it you hear Sir Richard's own voice. It is rather like being told the story over a pint in a Devon pub by the author himself. Humorous, self-deprecating and warm the story is "one of the best accounts of a coastal cruise I have ever read." To steal David Collin's words.
Sir Richard Stilgoe has very kindly provided the full account of his voyage for all of us to enjoy here: CIRCUMNAVIGATION-Complete.pdf 1.3mb and I heartily recommend that you grab it. Then get your favourite drink and an hour or two of quiet time and prepare to be motivated to plan or at least dream about completing a special voyage yourself.