Alternative halyard block arrangement on Mischief.
After 15 years of use on Michief, the original Barton blocks of my halyard have perished. Although they were still in working order, the cheeks were bending open and the halyard itself had "eaten" into the plastic cheeks because of the torsion when the sail is hoist fully. I did not fully trust them any more, so I decided to change them over. The rigging company, after looking at the old blocks, suggested to replace only one block and use a low friction ring for the one that runs the halyard around the mast. I decided to take up on their suggestion, and rig the ring with a dyneema loop and a bit more space so it can easier absorb the torsion. The other block (a Harken ESP 57) is a swivel model. I believe it is important that the halyard can be lowered very quickly, in order to drop the sail on deck without it blowing overboard, so I was looking for a light running block, that also can take the high static load. This is what it looks like now. It may not be a very traditional and old gaffery look, but since we are using carbon spars anyway, what the heck…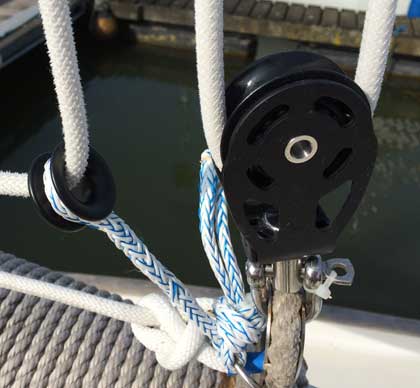 The low friction ring is quite a lot cheaper than a quality block. Nevertheless at my in-harbour-test, it seems to do the job. Another nice bonus of this arrangement is that the total weight is less than half of the original double Barton blocks (was > 500 grams, now 240 grams), all the little bits help. I still have to test the arrangement out on the water and in waves, and will let you know the results.
Cees Verhoef
Mischief Rx 9