I've been dreaming about sailing a Roxane or Romilly since the first articles were published in the magazines. A brochure has been sitting on my night table for a years, but a new boat was way out of my league and second hand boats are not offered very often.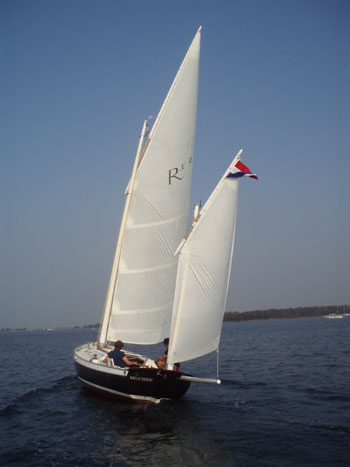 A couple of months ago however, I started to get more serious and when I saw on the web that Roxane #9, "Mischief" was offered for sale in Gosport (UK) and… for a reasonable price. A simple 2 stage plan entered my mind: Let's just go and have a look at her and do a test sail. At least I will have sailed a Roxane once in my life! And for part two: If the boat is any good, why not sail it over from the UK to Holland?
So I planned a trip with my son to have a look at her. From the pictures that were sent over, it was already clear that the former owner was a very dedicated and serious sailing enthusiast. He had taken good care of Mischief, who was by now 12 years old. The test sail was a dream come true.
There was no going back. When the deal was done, a survey confirmed my first impressions. By now I had an experienced sailing navigator on stand by to help my son and me to sail Mischief from Gosport to Zeeland in the period September 4th to 9th. I had never done a Channel crossing before, and since none of us had any experience with the lug-rig, we decided to sail only if the (forecasted) wind would be maximum Bf 4 and from a favourable angle. Also we decided to take her in day trips so we did not have to manoeuvre in and out of harbours in the dark.
We got lucky; a perfect weather window was offered by the Grib files, from Saturday to Wednesday, giving us 5 days. So "ït gaet on"!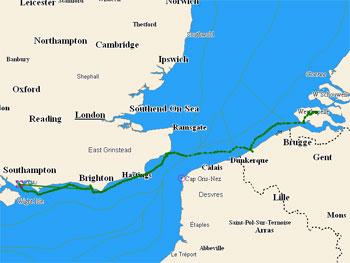 When we crossed the Channel on the Ferry a South-westerly gale (8Bf) was still trashing 5+ meter waves over the bow of this rather large ferry.
Not a very promising site. However the weather files still promised there would be milder weather patterns after this gale.
On the day of the transfer, (Friday September 4th) it was still windy. We did however make a test sail in the Southampton Harbour at a good 5-6 Bf. Doug, the former owner gave us tips & tricks which proved very useful. Sailing your new boat is already kind of special, but another surprise was, that we ended up sailing right underneath a Red Arrows flight display, because of the re-commissioning of HMS Ark Royal. A very surrealistic and amazing experience in red white and blue.
Next day (Saturday 6th) we took off for the big trip. First leg: Gosport to New Haven (54 NM). Mischief behaved nicely on the swell. South-westerly 2-4 Bf. We had to do some reefing and un-reefing and altogether a good day to get to know her a bit better, my son had to leave in Newhaven, because his holidays were over.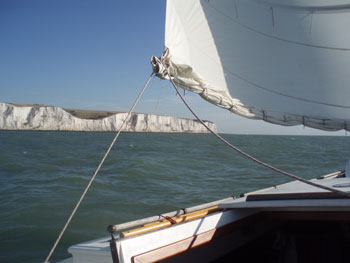 Sunday (7th) Newhaven to Dover, around 60 NM. A very impressive trip along the coast to the white cliffs We met with a tidal race at Beachy Head, it looked more tricky than it turned out to be. 15 miles before Dungeness the wind died down on us so we had to put in a couple of hours on the engine, even that was a nice experience since the little Yanmar, was working beautifully, she is well insulated and did not reach annoying noise levels. Later on the wind picked up again so we could sail Mischief into Dover Harbour.
Monday (8th) Dover to Nieuwpoort (B) around 64 miles). We got complimented by Dover Port Control over the VHF: "Beautiful boat you have there, have a save voyage Mischief, this is Dover port Control, out!" I have to be honest here, to leave the North Harbour exit we had to jibe right under their noses in front of the control tower ;-).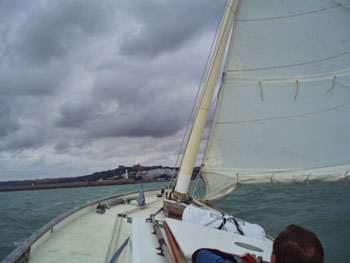 Tuesday Newpoort to Vlissingen (NL) 50 NM. Mischief was now in the Netherlands.
The last leg on Wednesday was Vlissingen to Kortgene (25 Nm). For the first time the weather was different from the original Grib files. A Northeastery wind forced us to tack a few miles. Which was actually the one manoeuvre we had not yet practised. So our training run was a success.
By now, Mischief is entered in the Dutch branch of the Old Gaffers Association and I am in touch with two other Dutch Romilly skippers. In future I am planning to publish some more info on my own site www.weblugger.com. I'll keep you posted.
Words and pictures copyright 2009 Cees Verhoef. Cees is developing a new Dutch language web site featuring Mischief, Roxane and luggers in general.