Rinus Alberti – skipper of "De Scoonheijt van Oele" (the Beauty of Oele, named of a landscape in Twente) recently wrote. He completed his SPV Romilly in 2006 and made an interesting modification. As you can see from the photograph below Rinus has used the space at either side of the cockpit well to create some useful storage lockers.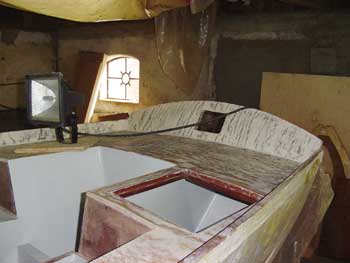 I decided to start the aft-deck where the frame of the outboard-engine begins. The space on either side of the outboard-well has no use for cockpit-space. Therefore I could use this space for two extra locks.
Rinus is curious to hear the reaction of other Romilly SPV builders to this modification.
The images below are of the standard GRP version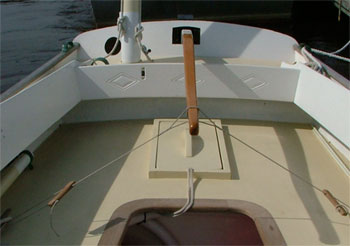 On the GRP version the outboard well is a female which accepts a male plug with the outboard semi permanently installed. In order to ship the outboard the male plug/outboard assembly is pulled out of the hole and stored under the port seat just aft of the cabin. A blank male core is then inserted into the outboard well to fair the hull. I'm intrigued to hear more about the outboard motor arrangement in Romilly SPV.