Rinus Alberti skipper of "De Scoonheijt van Oele" (the Beauty of Oele, named of a landscape in Twente) has provided some images and notes on some of the building decisions he made when building his SPV Romilly.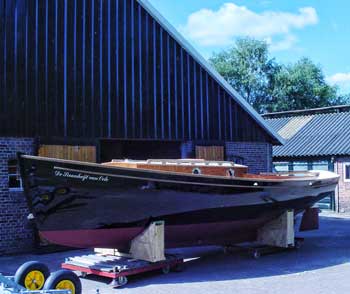 "I built my Romilly from 2003-2006 in the East of the Netherlands (Twente-region) and sail the boat on the lakes in the Friesland-province. In the Netherlands there are 3 wood-core build Romilly's and all three have a longer cabin, like the wood-core Romilly in the Watercraft-versions some years ago.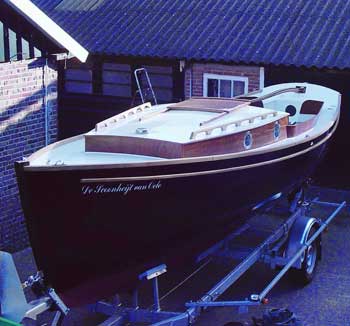 The cabin is 60 cm longer. And that is a whole lot of extra cabin-space! Instead of frame 4 (drawings on the website of Ed Burnett) I constructed the entrance 10 cm's before frame 5. Just the same they did at Lyme Regis when they built the wood-core Romilly of Bruce Thorogood (see old Watercraft-editions, if you can still get some). There is still more than enough space in the cockpit. Cockpit-length is still 2 meters, so if it is necessary you can sleep in the cockpit.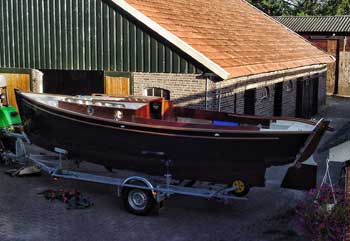 I also use a boom. This helps also to raise a cockpit-tent. And moreover, with some lazy-jacks it is far more practible to lower your main sail.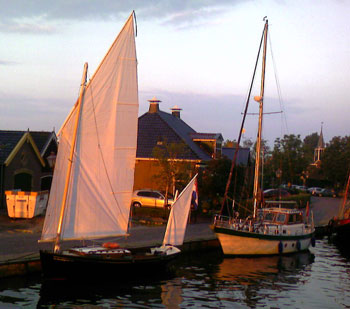 All my spars are from carbon fibre. It really is a total other world of sailing. Wooden spars would be two times heavier. The carbon fibre spars are not amateur-made, but made by the Irishman Thomas Wilkes of the Ceilidh-company at Hellevoetsluis in the Netherlands.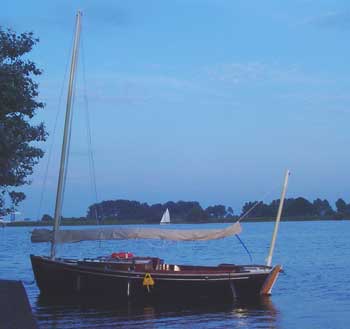 I sail my Romilly now for three years and made some changes in rigging and in the aft-deck. I'm curious hearing some reactions of other Romilly-sailors.