For Sale – Romilly No.24 "Hebe" (2000)
£19,500 ono
Lymington
We have owned Hebe since 2012 and have loved sailing her around the Solent. She is a beautiful and sea-kindly boat, able to deal with both the Solent "chop" and fickle winds, making good way in lumpy tidal waters even in the lightest of breezes. She attracts admiring comments almost every time she sets out. She has been great fun, whether racing with the gaffers, or for picnics and fishing with friends, with fantastic cockpit space and a really adaptable sail plan. These are extraordinarily well-designed and built boats that will last many years.
Her fit-out (as "Betty Boop") was included in Watercraft magazine's "Luggers of Today" feature and once complete she was the Bridgend display boat at Boats on Show. She comes with her full ownership history and original sales documentation. The attention to design detail of these boats is extraordinary, from the bronze fittings and finishing details to the fairing plug for the outboard well.
This boat underwent post-construction CE Certification in 2010, and is certified to RCD Category C. She comes with many extras, including Autohelm, solar charging, beaching legs, cockpit cushions, and a 5hp Mariner outboard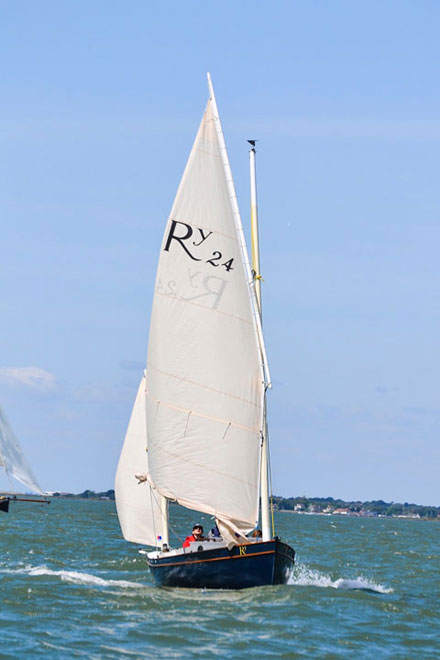 Hull & Spars
Original carbon mast & gaff, Mizzen & Bumpkin. The bumpkin is fitted with a drop-nose pin fixing for easy demounting
Beaching Legs, with silicon bronze hull fittings & hull reinforcements (2010)
Sails & Rigging
Main & mizzen sails (Sanders Sails 2012). Original Osen sails in good condition for their age.
Mainsail and mizzen Sail covers
Main halyard (2017) & spare halyard
2 x cockpit bench Cushions, designed dual purpose as long fenders (Sanders Sails 2015)
Sculling Oar with transom rowlock
Internal upholstery (Sanders Sails 2015)
Lalizas Aluminium Bathing ladder adapted to the hull shape (2021)
5kg Bruce anchor with approx. 3m chain & 20m rope
Bronze winch handle for lifting keel
Barton Floating Winch Handle for sail winches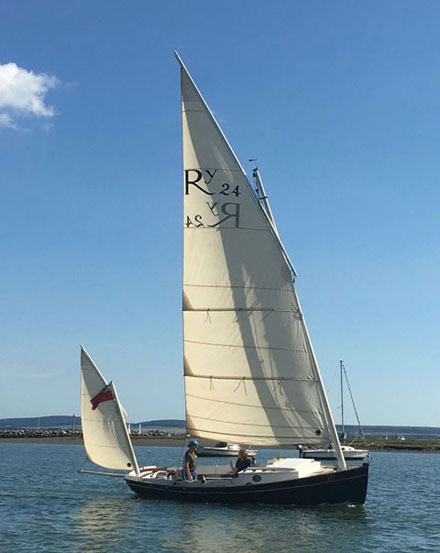 Electricals
Autohelm ST1000+ & fittings
Clipper Duet combined log & Echo Sounder, cockpit mounted
Garmin Oregon 600 touchscreen

GPS

with powered Cockpit Mount
Solar Panel on stern deck (linked to service battery)
Steca PR1010 Solar Charge Controller/Regulator/Battery Monitor
Whale bilge pump with separate float switch
12V Barden Powermax 85 Leisure Battery (75Ah)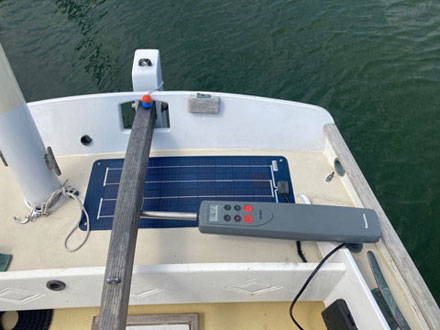 Recent Maintenance
Underwater coatings professionally stripped 2020 (Jeremy Rodgers & Co)
Lifting keel stripped, recoated with epoxy primer and antifouled 2016
Keel winch (Kenneth Ryland 2016) plus shackle, strap & spacers replaced 2016
Engine
Mariner 5HP 4-Stroke outboard engine in well fitting, (2012)
External 16l petrol tank
Other
Lizard single-axle combi trailer with LED lighting (During our ownership the trailer has never been immersed, as we have always used our Club crane for launch and recovery).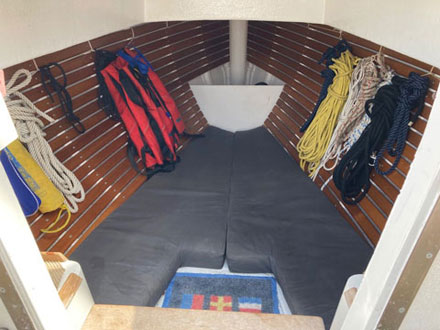 CoCo Be Manual
Large scale laminated rigging guide by Ed Burnett