Plans are available to build a strip plank version of Romilly.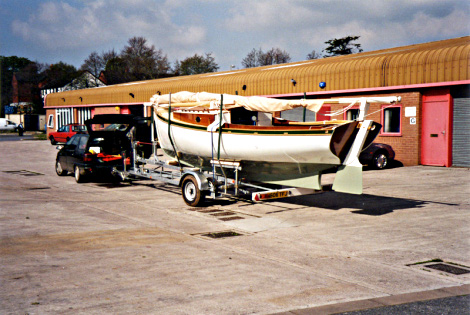 There are a few small changes to the production Romilly design, which reflect the change of material and also incorporate a bit of development, drawing on our experience with the production

GRP

version.

The Hull Structure
The hull is constructed from Western Red Cedar Planking, over eight plywood bulkheads and frames. The transom and stem are also set up before planking.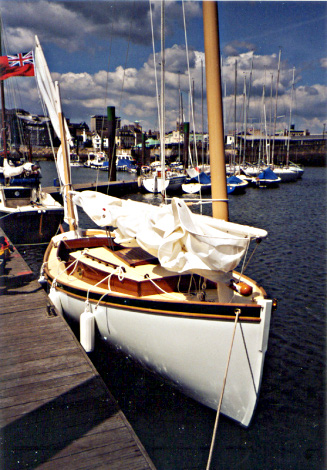 The choice of plank cross section is left to the individual builder. Tongue and grove, convex concave or even conventional beveled edged planks can be used. Once planked the hull is finished with an external glass sheathing to protect the planking. The frames, bulkheads and deck are specified as various thicknesses of marine ply but the design specification is flexible enough to allow the use of solid timber if this is preferred in some places. Epoxy resin is used to seal all of the structure.
In the production boat the centre board is cast iron but on the strip plank version the builder casts a lead keel which is bolted onto the hull with a slot for a ply and glass sheathed steel plate. The rudder is very similar to the production boat and is made up from laminated ply which is shaped, faired and glass sheathed.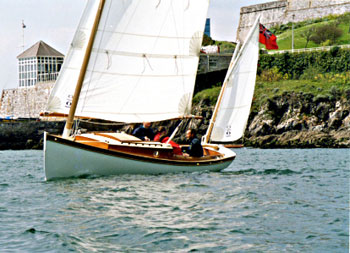 The rig is the familiar lug yawl of the production Romilly. The main spars should be made of carbon fibre and plans are provided to have these made locally, it is possible to make some of the spars from wood but strongly advised that the mast and main yard be made of carbon fibre. One notable difference to the rig of the original boats is the inclusion of a boom. This is said to improve off wind performance and makes the main easier to handle. It also removes the need for winches.
The full set of drawings and additional information is available for a price of £300 ($600, 385€ rate of 25/03/2008).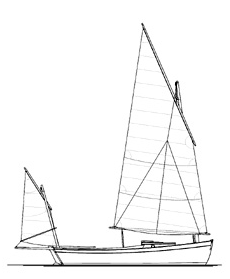 From an article by Ed Burnett originally published on amateurboatbuilding.com
Study plans and design notes are available for free download here. Burnett Yacht Design
All images are Copyright and used with the permission of permission of Ed Burnett